De voorstanders van een blijvend lidmaatschap van de EUSSR voorspellen een doemscenario bij een Brexit: Londen zal binnen enkele weken wegzinken…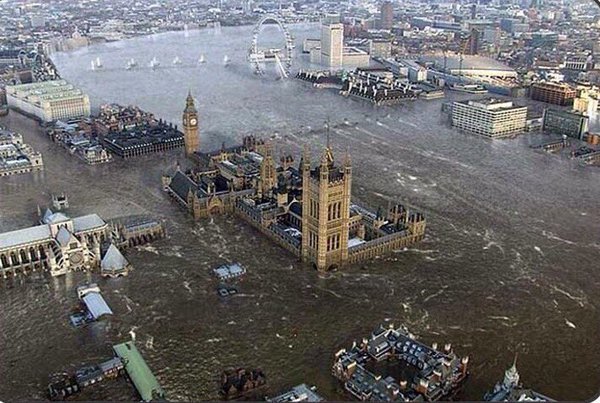 Of een nieuw ijstijdperk uitlokken:
Daar bovenop zal kanker zich verspreiden:
En de zombies zullen heel het zaakje overnemen:
Euh… die zijn er al!
Boris Johnson veegt er zijn maat 45 aan en geeft met enkele cijfers weer waarom de "fat cats", de bedrijfsbonzen (in hedendaags jargon CEO's), het wierookvat zwaaien voor de EU.
De fat cats worden steeds vetter, terwijl Jan met de Pet het met steeds minder moet doen. Met dank aan de EU.
Boris Johnson, de oud-burgemeester van Londen en potentiële opvolger van David Cameron als leider van de zogenaamd conservative Tories, heeft in een column voor de Britse krant de Telegraph keihard uitgehaald naar CEO's van grote bedrijven die zich hard inzetten voor voortgezet lidmaatschap van de EU.
Zoals Johnson uitlegt zijn deze fat cats niet eurofiel omdat de EU zo goed is voor Jan met de Pet, maar omdat zij het vreselijk gecompliceerde Europese systeem gebruiken om zichzelf te verrijken.
Eerst enkele cijfers. In 1980 verdiende de gemiddelde CEO van een bedrijf 25 keer meer dan zijn gemiddelde werknemer. Dat was een groot gat, maar iedereen die in de vrije markt gelooft weet dat dit logisch is: die man (of vrouw) heeft immers ook meer verantwoordelijkheden, heeft meer kennis, en werkt vaak meer uren. Niet zo gek dus dat hij meer verdient.
In 1998 was dat gemiddelde echter gestegen naar 47 (dus 47 keer het loon van de gemiddelde werknemer). Steeds meer mensen begonnen zich terecht zorgen te maken: waar ging dit naartoe? Werd het gat niet veel te groot? Nou, dat was niets vergeleken bij wat er de volgende jaren gebeurde. Na tien jaar Labour aan de macht te hebben gehad was het gat gegroeid naar 120. Vorig jaar was het 130… en dit jaar verdienen CEO's 150 keer meer dan hun gemiddelde werknemer.
Dat zou nog wel oké kunnen zijn als die werknemers er ook op vooruit waren gegaan. Maar dat is allerminst het geval. Sterker nog, de gemiddelde werknemer in Groot-Brittannië is nu armer dan enkele jaren geleden, en kan het zich niet langer veroorloven om een huis te bezitten.
Ondertussen vliegen CEO's met privéjets en laten ze duizelingwekkend mooie zwembaden aanleggen bij hun villa's.
Hoe kan dat? Nou, volgens Johnson is het antwoord: de EU. Beter gezegd: EU-reguleringen.
So what is it these fat cats like about the EU? Broadly two things. They like uncontrolled immigration, because it helps to keep wages down at the bottom end and so to control costs, and therefore to ensure that there is even more dosh for those at the top. A steady supply of hard-working immigrant labour means they don't have to worry quite so much about the skills or aspirations or self-confidence of young people growing up in this country. And as denizens of Learjets and executive lounges, they are not usually exposed to some of the pressures of large-scale immigration, such as in A&E, or schools, or housing.

Then there is a more insidious reason – that the whole EU system of regulation is so remote and opaque thatthey are able to use it to their advantage, to maintain their oligarchic position and, by keeping out competition, to push their pay packets even higher.
Met andere woorden, de CEO's gebruiken massa-immigratie om de lonen te drukken en zorgen er tegelijkertijd voor dat de Europese Commissie haar macht gebruikt om de concurrentie de kop in te drukken. Het gevolg is niet dat er een vrije markt is, maar een oligarchie: een groep rijke mensen en grote bedrijven die het voor het zeggen hebben en alle anderen onder de duim houden.
Deze knetterrijke figuren gebruiken de EU dus om zichzelf te verrijken ten koste van de gewone werknemer. En de EU vindt dat prima. In ruil zetten de CEO's hun macht, invloed en geld namelijk in om Britten ervan te overtuigen vóór voortzetting van het lidmaatschap van de EU te stemmen.
Het is te treurig voor woorden, maar dit is hoe het werkt in de EU: de boven-ons-gestelden houden elkaar de hand boven het hoofd en gebruiken hun macht en invloed om zichzelf ten koste van ons te verrijken.
Met dank geleend bij De Dagelijkse Standaard.  Ook dank aan Wes Hardin voor de tip.